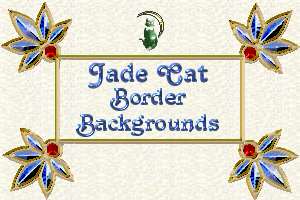 Welcome!
I've made some special border backgrounds that you won't find anywhere else.

The images below are miniature images of the border backgrounds I've created.
Just click on a thumbnail image below to see how it tiles to fill a whole page.
To download the background, right click on the tiled page and choose
"Save Background As" or "Save Picture As" from the menu that pops up.
All I ask is a link back to www.JadeCat.com so that others can find them too.


Enjoy!

These graphics are "free for a link" for non-commercial pages only.
Please download graphics to your own hard drive. Do not link to this site.

















COPYRIGHT INFORMATION
The backgrounds above are solely the property of J.L. McKenzie,
but are free for you to use provided you link back to www.JadeCat.com.
You may not offer these backgrounds or other graphics
for download from any other Internet site.
Contact me if you are interested in using these backgrounds for commercial projects.
Sites containing or promoting foul language, pornography, illegal activities,
hate, or bigotry may not use these graphics.