This is list of some of the links that I found interesting
because they provide additional information about
Scotland and things Scottish.

Some give more information about the images in my photographs.
Some simply give more information about places I would have liked to have gone.
A few provide information about the stories and legends we learned of while in Scotland.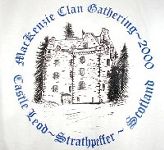 BritRail Ltd - Discover the UK and Ireland with BritRail's travel passes
Clan MacKenzie Video - by Albavision, Inverness Scotland
Dark Isle - Stone Circles and Cairns of Scotland
Dave McKenzie's Guide to Scotland - (Humorous, but possibly useful.)
Eilean Donan Castle - The Internet Guide to Scotland
Fort George: 18th century military barracks and visitor attraction, Inverness, Scotland
Glenfinnan on the Road to the Isles, West Highlands of Scotland
Heavy Horse Tours West Highland (Isle of Skye)
Hector Russell Kiltmakers (Warning: Automatic Music)
Holidays in Scotland - Scottish Tourist Board - Accommodation, Transport, Activities and Events
Holidays in Scotland - Scottish Tourist Board - Search for Accommodation
Loch Ness Scotland - The Official Loch Ness Monster Exhibition
MacKenzie
National Trust for Scotland - Guardian of Scotland's historic, architectural and natural heritage
Scottish Scenery - Ben Wyvis and Strathpeffer
Skye Silver - silver and gold brooches, pendants and earrings in unique Celtic and Scottish designs.
St. Andrews, Scotland - The Essential Golf Reference Page
Stones of Scotland - Stones of Scotland
The Gathering of the Clans - devoted to all things Scottish.
The Road to the Isles: from Fort William to Mallaig, Highlands of Scotland
USA Gateway to Great Britain: England, Scotland, Wales & Northern Ireland
Web Cams; Edinburgh Royal Mile, Inverness, Glasgow

Reproduction of the photographs, graphics, logos and text
on this and all pages of this website
for any commercial use whatsoever is forbidden.




You are Visitor


Since September 15, 2000